Having a six-figure job is what many people consider their goal. A new survey from Glassdoor reports that many of the higher paying jobs in the U.S. don't require advanced degrees, which is making the jobs appear more appealing to those looking for employment opportunities.
However, the jobs that are paying more require additional training and unique skills. According to one immigration service, USAFIS, "This is a great time for foreign nationals to look for jobs in the United States."
According to Scott Dobroski, community expert at Glassdoor, the jobs that are high-paying and in-demand "can attract people with an undergraduate degree and relevant work experience, which is a much bigger pool of people, in most cases, than those holding a specific advanced degree." If you are looking for a high-paying job in the U.S., contact USAFIS today to get started on the immigration process.
---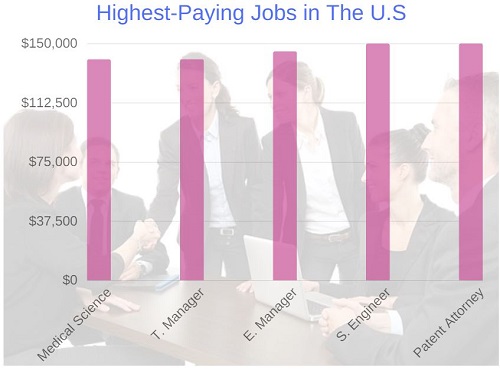 ---
Here are the nine jobs that are the highest-paying and most in-demand and their annual pay.
1. Patent Attorney – $150,000 – Patent attorneys are important to the technology sector given its reliance on patents.
2. Software Engineering Manager – $150,000 – A software engineering manager handles software as well as teams of engineers.
3. Engineering Manager – $145,000 – An engineering manager oversees software engineering teams.
4. Technology Manager – $140,000 – These managers help manage the technical operations for a business and manage employees such as software developers.
5. Medical Science Liaison – $140,000 – This position is a field staff member who has experience in scientific training and can communicate with medical professionals.
6. Pharmacist – $120,000 – This requires a PharmD degree, and customer service skills are an additional quality.
7. Finance Manager – $118,000 – These managers work within businesses to forecast and analyze current business trends.
8. IT Manager – $118,000 – IT managers work on the information-technology infrastructure within a company and oversees systems such as network security.
9. Product Marketing Manager: $116,000 – These managers help companies create marketing plans for new and existing services and products.
USAFIS encourages employees who are interested in these jobs to take additional time when preparing for their job searches, resumes, and interviews to make themselves stand out from the rest.